25/09/2023
FUEL & GAS LOGISTICS
Shortage of Truck Drivers to Continue
The numbers fluctuate, but whether the shortage is 70,000 or 100,000 drivers, the problem still remains and is unlikely to improve in the coming years.
Finding suitable drivers is becoming increasingly difficult for all logistics companies. As recently as late May 2023, a report from tagesschau.de highlighted a shortage of around 100,000 truck drivers in Germany.
The German Association of Road Haulage, Logistics and Disposal (BGL) expects some 30,000 professional drivers to retire each year with only around 17,000 new drivers to replace them. Roughly one in three professional truck drivers is now over 55 years old, so the search for skilled workers in this sector is not likely to get any easier in the next few years. It is also difficult for German freight forwarders to recruit foreign drivers because these workers have to acquire a new driving licence in Germany.
A joint study on "Meeting Capacity Bottlenecks in Logistics With a Focus on Truck Drivers" anticipates staff shortages of over 70,000 in 2023. The study was initiated in February 2022 under the direction of Professors Wolfgang Stölzle from the Logistics Advisory Experts (a spin-off of the University of St. Gallen), Thorsten Schmidt from the Technical University of Dresden and Christian Kille from the Institute of Applied Logistics of the Technical University of Würzburg-Schweinfurt (THWS).
In addition to studying the driver shortage, the authors also looked at possible ways of dealing with it. The considerable economic impact of the shortfall has led to an urgent need for action. In 2022 alone, for example, the lack of drivers increased costs in the logistics sector by three per cent, placing an estimated additional burden of ten billion euros on the German economy.
But how did the driver crisis become so dramatic? The study identified 40 reasons. These include working conditions and the work environment as well as public perception of the job.
In these areas, medium-sized energy retailers can benefit from certain advantages specific to their sector. Drivers who deliver fuel to consumers or filling stations, for example, are often employed by the same company for many years. Unlike long-distance truck drivers, they usually work close to home with regular and predictable working hours. In addition to their role as drivers, they generally represent their company directly to the customer when delivering products. The joint study not only looked at the number of missing drivers but also analysed and evaluated measures to address the shortfall.
19 of these measures have considerable potential and are especially popular, according to the study authors. At a political level, the expansion of parking areas could be prioritised, for example. Other promising steps include companies employing a special officer responsible for the needs of driving staff as well as digitisation projects aimed at optimising operations in the logistics sector.
Whatever else happens, there is also some very good news. According to one survey, truck drivers are generally satisfied with their choice of career.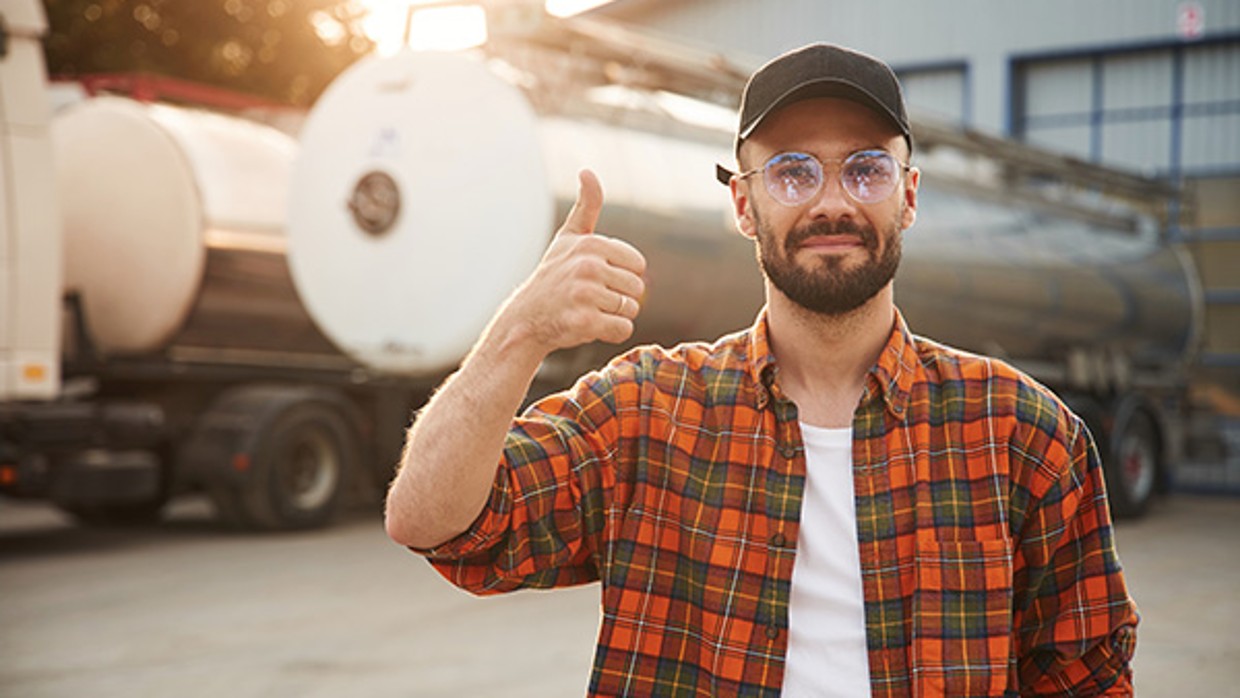 Back to all news